"LIFE: Your more important design project" Resource Packet
Aims of the tool
1)To increase youth workers' knowledge on what design thinking is, its connection with life purpose, the potential for employability, entrepreneurship, and prevention of early school leaving. They will learn how to unleash the potential of the youth for their professional lives through design thinking and innovative approach.
2. To develop develop youth workers' skills to support youth to utilize design thinking to identify their life purpose and
unlock their potential for professional fulfillment.
3. To increase youth workers' awareness on the importance of design thinking to discover and follow their purpose and employability options.
The main aim of the project that was created aimed:
- to improve the level of key competencies and skills, with particular relevance to the labor market, entrepreneurship, employability, and youth workers' contribution to a cohesive society.
Description of the tool
This resource packet is a direct result of the Erasmus+ funded project, "LIFE: Your Most Important Design Project." This training course brought together youth workers from across Europe, namely Cyprus, Germany, Spain, Slovenia, Turkey, Poland, Serbia, and Lithuania.
The aim of this training course was to develop the design thinking competencies of European youth workers to effectively support young people to design their lives, in order to increase their personal and professional fulfillment.
Utilizing design thinking methodology, the topics of the training were designed with the participants in mind. This resource packet is a direct result of the methods, tools, and resources that were utilized in this training.
We hope that you enjoy this resource packet and use it to support your own life design as well as to help more individuals around Europe! You're a designer whether you realize it or not!
Tool overview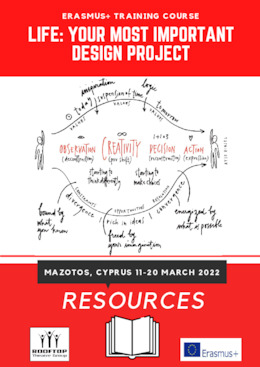 http://toolbox.salto-youth.net/3272
This tool is for
Youth workers, project managers, experiential learning trainers, and educators in general.
and addresses
Intercultural Learning, Personal Development, Peer education
It is recommended for use in:
Training and Networking
Capacity Building
Behind the tool
The tool was created by
Rooftop Theatre LTD.
in the context of
LIFE: Your Most Important Design Project.
The tool was published to the Toolbox by
Javier Esteban (on 26 July 2022)
and last modified
18 July 2022