General information, registration and log in
For applicants / participants
For training providers
The answer of my question is not here, what should I do?
General information, registration and log in
What is the European Training Calendar (ETC)?
The European Training Calendar (ETC) is a platform to publish international (mainly european) training courses for youth worker / youth leader who want to develop their competences to work with and for young people, to share experiences or to make contacts for common future projects. Besides, the calendar can also publish calls for projects in which youth worker will meet other target groups such as youth policy maker, adult learning organiser, etc in order to learn from each other.
The calendar contains current training offers of different institutions and organisations, such as SALTO, the National Agencies for the YOUTH IN ACTION Programme, non-governmental youth organisations, the European Youth Centres of the Council of Europe, the Partnership Programme on European Youth Worker Training, etc.
You can either search for trainings you want to apply for or - if you are a training provider - offer your own trainings.
For the criteria in formal and conent of the training offers see below.
How can I register on the SALTO website?
To create your own MySALTO user account (which enables you to apply for the offered trainings) click here to sign up.
I am a registered user, but I have forgotten my user name and password
If you forgot your password or username click here and you will get a new one.
How can I change my details?
Log in here and either edit your profile, change your email address or change your password. 
How can I delete my MySalto account?
Please login to your MySalto account. Once you do that, your profile page will be displayed. Find in the first section the button "Edit your profile", then look just below it for the option "or delete it". Please select this option and you will be on your way.
For applicants / participants
How do I search the ETC effectively for international training?
You can search the ETC for current training offers here by making your specific choices.
Please note: the activity date and the application date are automatically preset. If you search for a training offer with expired application deadline or for an activity that already took place please change the preset application date!
How can I be informed about new training offers?
If you want to be notified automatically as soon as a new training activity has been added to the European Training Calendar click here and register for notification. You can choose between notifications about new trainings for participants from your country or from any country.
How can I manage my applications?
You can find a menu to manage your applications on the MySALTO-page at the bottom of this page.
Can I save my application form as a draft and continue filling it out later?
At first you fill in the application form and save it. After saving it you can either submit it directly or keep it as a draft.
Clicking on <keep as a draft> leads you to your dashboard where you can organise your applications: https://www.salto-youth.net/tools/european-training-calendar/dashboard/applications. Here you can either edit, delete or submit your application.
Unfortunatly it is not possible to save a draft application without filling in all obligatory questions. If you want to save your application before entering all mandatory data you can type in a dot or any other single character, save your application and keep it as draft, and go back to your form later to complete all questions.
I have not yet received a confirmation e-mail that my application was received, what shall I do?
First of all, please be aware that confirmation e-mail is only sent when the application form used is placed within the salto Website, using the SALTO forms. This means that applicaitons filled with other tools such as google forms, typeform, etc, cannot be confirmed.
If the applications form was a SALTO form, then the two most likely reasons are that:
a) either the confirmation e-mail landed on the spam folder, thus please check your spam folder; or
b) the e-mail  entered was wrong/changed since you registered, thus please select the section "MySalto" on the top hand-right-side corner, to check on the profile details the e-mail address.
The date of selection has passed, and I have not yet received a message. What shall I do?
You need to contact the person assigned for questions to this call.  The name of that person can be found on the right-hand-side on the call page of the training course/ seminar, etc that you applied.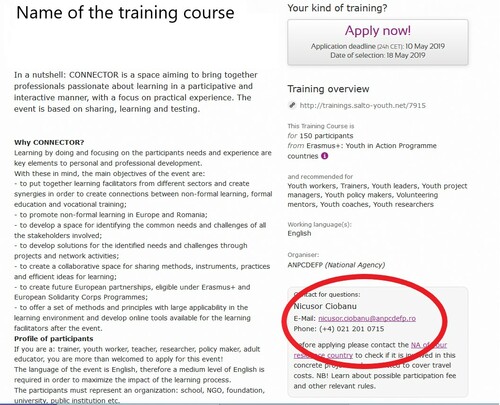 I have questions about the organization, country of residency, etc. Who should I contact?
Please contact the person assigned for questions for this call, as explain in the previous question.
For training providers
Which are the quality criteria for activities in the European Training Calendar?
Not to be strict, but to guarantee certain coherence, SALTO has put forward some minimum requirements on these offers:
They should be European.

They should be bilateral, trilateral or multilateral activities, which means that they must include more than one country. Calls looking for applicants from only one of the partner countries of the activity will not be activated; training providers should please use communication measures in respective country.

They should be intended for the field of youth.

They should support the development of quality of (international) youth work, they should allow reflecting on "youth related" issues and/or allow youth workers to find partners for future projects with young people.

They should be non-formal.

Activities in the European Training Calendar should actively involve interested people on a voluntary basis and should provide them with opportunities to acquire skills and competencies outside formal education and training systems. Even though they are not part of any formal educational curriculum, these activities should be characterised by a carefully planned programme of personal and social education for participants and should apply methods of intercultural learning.

They should be open.

The recruitment procedure should not be concluded, so that interested people are still invited to apply for participation.

The usual entrance age for such projects is 18 years, otherwise the organiser need to be aware of guiding needs for legal reasons.

There should only be an 'up to' age limit in case of e.g. a funding programme applies formal criteria to this question, there are specific pedagogic reasons for this, etc. In any case, the reason for 'up to' age limit should be explained in call.
They should be non-profit.

Participation fee should be reasonable. Reimbursements, e.g. for travel expenses, board and lodging, visa costs, insurance, etc., should be flexible and negotiable and should be clearly explained in details in the calls to allow potential applicants to decide to apply or not.
The financial conditions for applicants have to be clear

The call should include clear information in section: Costs how costs for accommodation, food and travel will be covered and if a participation fee is requested. 
In case the organiser applies for a grant from e.g. the EU Erasmus+ Youth in Action Programme or from the Council of Europe, the application has to be granted before you can launch the call. Applicants should not fill the application form although it might happen that the course will not take place or the financial conditions for participation will change because the project applications was finally rejected by the funding institution.

 
They should be announced good in-time and all applicants should be informed about selection result.
 

Applicants should have enough time to apply. They need to check availability, mission permission or holidays to apply for participation. Calls for international projects usually include partners to negotiate the final participants list with what will use additional time to finish the selection. And finally, selected applicants might need time to apply for visa, book tickets, etc.
Above listed demands for proper planning of international activities require time to apply and time after the selection was announced. Calls to be launched in the SALTO Training Calendar should give at least 2-week time to apply. And the application deadline should be at least 2 weeks before the start of the event. However, this does not apply to online courses that only require registration (without any application and selection process).
SALTO reserves the right not to publish calls which do not respect these minimum times.

All applicants deserve information about the selection result. Applicants invest time and efforts to fill your application form, you should at least send them a short note even their application was rejected.

We do not accept "first comes, first serves" selection approaches known from commercial advertisement. Organiser should set a deadline to apply and after this deadline organisers should make a qualitative selection.

 
They should be input to the European Training Calendar in English.

The SALTO website is an English language website. Consequently, the calls for applicants should be add in English language to allow all users of the calendar to understand the offers. Both the application form and the documents which can be attached to the calls can be in any other language. Because almost all offers in the calendar have English as working language, please highlight the working language as good as you can in the call in case it is different than English.
What cannot be published in the European Training Calendar?
The following activities are not eligible for the European Training Calendar:
statutory meetings of organisations
holiday travel
youth exchanges or other projects having young people as target group who do not plan to apply their learning in youth work being back home
performance tours
competitions
activities, which can be classed as tourism
activities, which aim to make financial profit
workcamps, which cannot be an end in themselves
sports activities, which cannot be an end in themselves
cultural activities, which cannot be an end in themselves
calls for partners and/or funding - PLEASE add them at www.salto-youth.net/OTLAS
voluntary work
How do I input my international training offer to the European Training Calendar?
To add a new training offer to the ETC you need to be logged in. Click on 'manage your training offers' and add a new training offer. You will be informed immediately, that your entry has been saved. After your training offer has been editorially checked you either are requested to adjust details of your call or are informed by automatic reply that it has been activated and gone online.
If problems should show up, please do not hesitate to contact .
Can I choose single countries of which the participants should come from?
You can find the category 'The training is aimed at participants from' within the field 'Specific information for participants'. By clicking on the 'plus box' a list of countries belonging to one of the country groups YOUTHIN ACTION PROGRAMME COUNTRIES, NEIGHBOURING PARTNER COUNTRIES and OTHERS appears.
How can I manage my training offers?
If the training offer is already activated: go to 'manage your training offers' and edit, view or copy your training offers. On the right hand side of each training offer you find the tools to take your offer offline or to manage the applications.
If changes are requested by the ETC admin after you submitted your training offer, please make the modifications and submit the training offer again by pressing the submit button.
For questions not addressed in this seciton and comments, please contact .