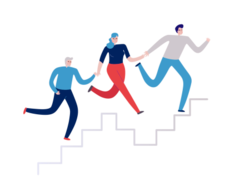 The European youth programmes have an impact on both, the neighbouring partner regions and Programme / Participating countries. The cooperation with neighbouring partner countries contributes to the development of key issues that are of importance for young people, youth work and youth policy. This cooperation also contributes to the development of communities and the relations between the European Union and its neighbouring countries. A focus on the neighbouring regions enhances the impact of the programmes and creates more spaces for dialogue and cooperation based on mutual needs and interests.
Experience gained since 2000 and various surveys undertaken by the regional SALTOs have shown that the European youth programmes represent important tools for youth work development in the different regions. In most of the neighbouring countries the programmes are unique tools for the organisations to experiment with non-formal learning, to build young people's and youth workers' competencies, to foster intercultural learning, to increase their level of awareness about Europe and to include youth with fewer opportunities into their work. The European Solidarity Corps' Quality Label (like the EVS accreditation before) provides opportunities for small NGOs to be recognised on an international level and to gain access to specific training. The programmes have been the engines for creating new networks, training youth workers and trainers and increasing the recognition of youth work.
At the same time, experience also indicates that the cooperation with neighbouring partner countries offers an added value and dimension for the partners based in Programme countries. According to reports from youth workers from Programme / Participating countries, partnerships and projects involving partners from neighbouring regions foster intercultural learning, awareness and respect of pluralism and diversity, critical thinking as well as a stronger interest in democratic citizenship and human rights issues. This is due to cultural differences and/or a particular interest in the political dimension of the youth cooperation, as these projects tend to address many issues that are currently discussed in our societies. Finally, an external view on the EU contributes to raising youth workers' and young people's awareness of the specificities as well as the recognition of the benefits offered by the EU.