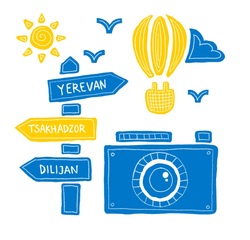 Tourism in Armenia: 
Tourism in Armenia has been a key sector to the Armenian economy since the 1990s when tourist numbers exceeded half a million people visiting the country every year (mostly ethnic Armenians from the Diaspora). The Armenian Ministry of Economy reports that most international tourists come from Russia, EU states, the United States and Iran. Though relatively small in size, Armenia has four UNESCO world heritage sites.
Despite internal and external problems, the number of incoming tourists has been continually increasing since 2007. 2019 saw a record high of over 1.9 million inbound tourists. Most tourists focus their trip in Yerevan, the capital, where the majority of travel agencies, attractions and hotels are located.
Outdoor activities, sightseeing and nature tourism seem to be the primary attractions. Tsaghkadzor, Jermuk, Dilijan are known as mountainous resorts, which are outside of the capital. Tourists stay at the hotels of those towns in order to engage in extended trips over all Armenia without returning to Yerevan every day. The classical sightseeing trips to Armenia are popular not only among tourists, but also with the local population. Mountaineering, camping, hiking and other kinds of outdoor activities are also common.
Read more about tourism in Armenia HERE
Additional sources about traveling and tourism:
Whole encyclopedia about Armenia. History, language, society etc.
Information about Armenian language
Links of Armenian vocabularies
World Travel Guide about Armenia
Practical and tourist information
Web-page of Armenian Post-Service