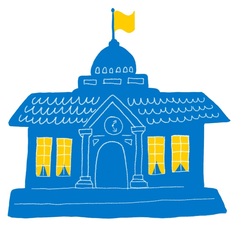 Education in Armenia
Armenia is home to more than 100 universities and academic institutions. Those centers of academic excellence, though mainly inherited from the Soviet Union, preserve and accumulate a huge academic power and internationally recognized educational potential.
There are many international fellowships and scholarships available for international citizens to travel to Armenia as a student or a researcher. Hundreds of conferences and summer schools are also organized in Armenia, thus becoming an excellent medium for international scholars and scientists to visit Armenia for a shorter period and meet their Armenian colleagues. ARMACAD provides a huge database about scholarships and fellowships to study and research in Armenia as well as a huge collection of summer schools and conferences being organized in Armenia.
Study in Armenia
Yerevan State University - The modern history of Armenia's higher educational institutions starts in 1919, with the foundation of Yerevan State University.  YSU is the largest educational institution in Armenia, offering degrees in more than 20 academic directions, among which the top ones are Mathematics and Mechanics, Law, Journalism, Informatics and Applied Mathematics, Radiophysics, International Relations, etc. You can explore the faculties in more detail on the university's website.
Armenian State University of Economics - ASUS condenses the main academic directions in economics that students might want to specialize in. Particularly, students can choose between Management, International Economic Relations, Finance, Marketing, and Business Management, Computer Science and Statistics, Accounting, and Auditing. Visit the ASUE's official website for more details on academic programs.
Yerevan State Medical University after Mkhitar Heratsi - YSMU is the most prominent academic destination if you want to experience the local medical practice. The Medical University is also trendy among Indian students, who form a large community of medical students in Armenia. The general breakdown of the university faculties includes General Medicine, Public Health, Stomatology, Pharmacy, Military Medicine. More details can be found on the university's official website.
National University of Architecture and Construction of Armenia -The two universities were united under one academic institution before, however currently, NUACA and Polytechnic Institute are two different universities you can apply to. NUACA offers courses in Architecture, Design, Construction, Urban Economy and Ecology, Management, and Technology. Among many academic programs, Polytechnic University offers research cooperations with world giants Microsoft, Kaspersky Lab, Synopsys, and others you can check on their site.
Yerevan State Linguistic University after Valery Brusov - Linguistic University is a great point to acquire degrees necessary for linguistic, translation, or educational careers. University offers its students academic programs across four main directions: Translation and Intercultural Communication, Education and Professional Pedagogy, Russian and Foreign Languages, Social Sciences and Service.
Armenian Russian State University - RAU is a great place for Russian-speaking students, as the academic language here is predominantly Russian. Even local students pass Russian exams to enter the university. The main directions you can apply to include Engineering, Physics, Pharmacy, Economics and Business, Law and Politics, and others you can check here.
Foreign Universities in Armenia
Armenia also hosts two major foreign universities, which are very popular among locals. The American University of Armenia provides education in all primary academic directions. The programs are in English, which is an excellent opportunity for international students to study in the country free of language barriers.
French University in Armenia offers education in French in popular academic directions such as Finance, Marketing, Mathematics, and others.
The advantage of both universities is that they provide diplomas accepted in the Armenian local job market and in those universities' home countries.
The above universities are the most popular educational institutions both for locals and for international students. The vast majority of the universities, or at least their main campuses, are located in the center of Yerevan. The average yearly tuition fees in local universities vary around 2,000$, which might be higher for international universities or medical degrees.
Scholarship Opportunities in Armenia 
Fellowships in Armenia:
Grants and Awards in Armenia:
Summer Programs in Armenia: