Youth vs Fake News
Aims of the tool
The aim of the handbook is to provide the youth workers with the tools for combating fake news that is spread both via online and offline means.

Description of the tool
Handbook is full of easy explanation texts and visual materials that are giving details on fake news history its contemporary meaning and ways/reasons why it is spread.
During the training course, we also implemented online and offline experiments in Poland so that youth workers can easily guess how the fake are spread and how to combat them.
Tool overview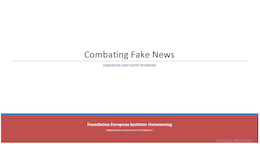 http://toolbox.salto-youth.net/2883
This tool addresses
Youth Initiatives, Youth Participation
It is recommended for use in:
Training and Networking
Transnational Youth Initiatives
Behind the tool
The tool was created by
Slava Mezhdoyan
The tool has been experimented in
Training Course held in Poland in 2019
The tool was published to the Toolbox by
Slava Mezhdoyan (on 27 August 2020)
and last modified
29 May 2020