Tool overview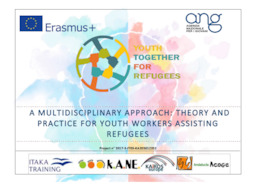 http://toolbox.salto-youth.net/2818
This tool is for
This toolkit is dedicated to all youth workers, volunteering and employed in the field of migration and particularly those ones working with young refugees and asylum seekers at recreational and educational facilities; including refugee camps and migrants' centres. We want to address the most important subjects they need to know about the the needs of the people they work with. It also represents a valuable aid for all workers involved in these activities such as social workers, coordinators and their managers.
and addresses
Social Inclusion, Anti-Racism, Intercultural Learning
It is recommended for use in:
Strategic Partnerships
Behind the tool
The tool was created by
Unknown.
(If you can claim authorship of this tool, please contact !)
The tool was created in the context of
Erasmus + Strategic Partnership in the field of youth
The tool has been experimented in
Training
The tool was published to the Toolbox by
Samuel Yosef (on 14 July 2020)
and last modified
26 March 2020