Youth Exchange Quality Handbook
Aims of the tool
A useful tool, especially for newcomers organisations, with usefu tips and hints to write a quality Youth Exchange.
- Erasmus+ and KA1 priorities and features
-Design a project (needs and aims)- Problem tree
- Partnerships
- Phases of a Youth Exchnage and quality tips ineach of it
Description of the tool
This booklet is the result of the activity performed during the TC YES- Youth Exchange System, held in Vinci- Italy from 20th to 26th of June 2017 by Associazione Agrado.
YES is a TC aimed to empower organisations (especially
newcomers) and Youth workers in planning and developing
quality Youth Exchanges. It is planned in order to provide
learnings and tips on quality system in each phase, from
planning idea to implementation to dissemination of results.
INDEX:
1. WHAT IS A YOUTH EXCHANGE
2. YOUTH EXCHANGES PHASES: GOOD AND BAD
PRACTICES in
Preparation
Implementation
Dissemination
3.PARTNERSHIP QUALITY.
4. LEARNING REFLECTION
Learning styles
One model of learning: Kolb's experential
learning cycle
Formal, non-formal, informal learning
5 PROJECT TIPS
Tool overview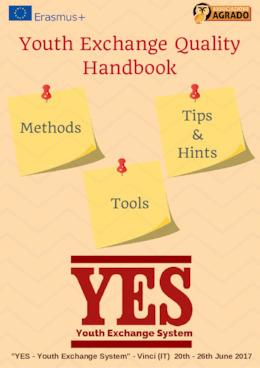 http://toolbox.salto-youth.net/2089
This tool is for
Youth workers Project managers Responsible of NGOs
and addresses
YOUTH in ACTION (YiA) programme, Project Management
It is recommended for use in:
Youth Exchanges
Training and Networking
Behind the tool
The tool was created by
Associazione Agrado
in the context of
Training Course YES- Youth Exchange System - Vinci- Italy 20-26 June 2017
The tool was published to the Toolbox by
Laris Guerri (on 2 September 2017)
and last modified
24 July 2017