Word4Word: Human Rights
Aims of the tool
To have fun and meanwhile learn about human rights. You can get familiar with some of the greatest fighters of rights and also get to know phrases in different human rights topics.
Description of the tool
Touch the first letter, then move to left or right, up or down. Become the almighty fighter of human rights, try yourself against Mandela, the Dalai Lama, Mother Teresa or Gandhi.
There is single player mode against the computer and also a hot seat mode where you can play with your friends togehter on one device upto 4 people.
https://play.google.com/store/apps/details?id=com.indea.word4wordhumanrights
https://itunes.apple.com/app/id1435132019
Tool overview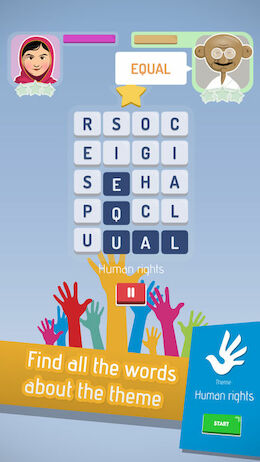 http://toolbox.salto-youth.net/2363
This tool is for
Young people, adult, everybody who like to play
and addresses
Social Inclusion, Anti-Racism
It is recommended for use in:
Youth Exchanges
Training and Networking
Materials needed:
Duration:
Behind the tool
The tool was created by
Emberség Erejével Alapítvány and INDEA
in the context of
Dignity W@rld Erasmus+ KA2 project
The tool was published to the Toolbox by
András Nyirati (on 4 October 2018)
and last modified
28 September 2018