Toolkit on Intercultural Dialogue
Aims of the tool
The process of intercultural dialogue and learning, which we see as the key resource on a way towards a culture of peace, is a central one in the concept and work of SCI (Service Civil International), in the informal and the non-formal learning process of our volunteers.
Because of this we decided to develop a toolkit on intercultural dialogue, which aims at supporting volunteers and trainers holding non-formal education sessions in trainings, seminars or workcamps.
To do this a team of volunteers gathered and collected information on the concept of intercultural dialogue, methodological information on how to build a non-formal education session and hold it and to put together the in our eyes most relevant games and workshops. Therefore in this toolkit you find first a theoretical introduction of intercultural dialogue, then find a short information on SCI and its history related to this topic, followed by guidelines and inspiration for non-formal education, and then in the end reaching the biggest part – the workshops. Together all these things should give you the ability and inspiration to hold non-formal education sessions on projects, trainings, seminars or in any other setting you will think about and give the participants the possibility to reflect on their own intercultural learning process by facilitating their discussions.

Description of the tool
List of contents:
-Introduction to Intercultural Dialogue
Inter-Cultural-Dialogue
Intercultural Dialogue
Models of Culture
Iceberg
Onion
Behavioral Components of Culture
Stereotypes, prejudices, discrimination
-Service Civil International and Intercultural Dialogue
-Methodological Aspects – Non-formal and Intercultural Education
Non-formal Education
Group dynamics and their roles in the non-formal education process
Recommendations for working with international groups (on intercultural educations issues)
- Intercultural Dialogue and Learning – Non-formal Education workshops
Line of differences, History Line, Human Library, Where do you stand?, Reality in 3 angles, Lemon diversity, Cultural Lenses, Cooperation exercise, Abigail story, Image Circle, Babel Tower-Mission Impossible, Power relations, Euro-train, Bogardus Scale, International Casino, Equiano, Learning from experience: Intercultural Learning Competences, The Culture Laboratory, The Island, 5 steps to Tyranny, Albatross, Meeting the Deridan Culture
Resource list

Tool overview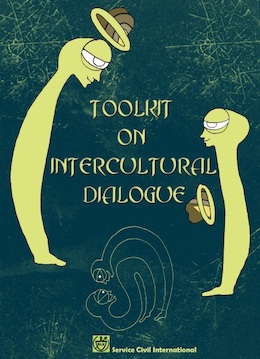 http://toolbox.salto-youth.net/2389
This tool is for
Trainers, Facilitators, Active Volunteers, Peer Educators, Coordinators, Mentors in EVS projects
and addresses
Anti-Racism, Intercultural Learning, Peer education
Behind the tool
The tool was created by
Andreea-Loredana Tudorache and Valerie Weidinger
in the context of
It was developed by an initiative of Service Civil International
The tool has been experimented in
Trainings, Youth exchanges, Workshops
The tool was published to the Toolbox by
Andreea-Loredana Tudorache (on 27 November 2018)
and last modified
1 November 2018