TOOLKIT - DEVELOPING MENTAL HEALTH THROUGH YOUTH WORK AND NON-FORMAL EDUCATION
Aims of the tool
The network is a keyword for us and our organization. The main purpose of creating this toolkit is to support young professionals improve the quality of their work and supporting them to integrate the most practical activities into their work, that supports youth mental health and well-being.
Description of the tool
Youth workers and other professionals who work with young people are the main targets of this toolkit. The theoretical framework and practical tools are all directed at equipping youth workers with awareness, knowledge, skills, and methodologies for promoting the positive mental health of young people.The activities were created by the young participants of the training course with the support of the trainers. Each activity includes a brief description of the activity,
highlights the overall duration, number of participants, material, and additional comments for the facilitators.
The Toolkit aims to help the beneficiaries be aware about their mental health, take care and reflect on their body, feelings, thought and emotions, practice mindful
behaviors and self-care routines. All the activities were adopted and tested within
the training course.
Tool overview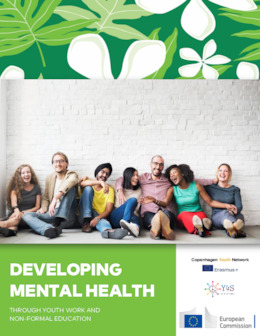 http://toolbox.salto-youth.net/3296
This tool is for
youth leaders, teachers, educators, professionals, and volunteers
and addresses
Social Inclusion, Intercultural Learning, Personal Development, Peer education
It is recommended for use in:
Training and Networking
Behind the tool
The tool was created by
Copenhagen Youth Network and Youth for Society Georgia
in the context of
Training course Developing Mental Health Through Youth Work and Non-Formal Education
The tool has been experimented in
Training Course
The tool was published to the Toolbox by
Tamta Khutsishvili (on 7 September 2022)
and last modified
8 August 2022