Toolbox of NFL activities for youth employability and youth entrepreneurship
Aims of the tool
- To provide concrete workshops and methods for youth workers, youth leaders and trainers that they can use on non-formal educational youth activities on the topics of unemployment, employability, and youth entrepreneurship.
- To provide entrepreneurial, practical and transversal (soft) skills to young people and youth workers that can ultimately lead towards employment or starting their own business through using non-formal educational methods and approaches.
Description of the tool
The Toolbox presents what is non-formal learning and proposes non-formal learning activities to be implemented on Training Course, Youth Exchanges or local events for young people in order to tackle youth unemployment and promote youth entrepreneurship.
This booklet provides concrete non-formal learning activities and methods that can support youth workers and young people to organise activities that can educate about entrepreneurship and provide employability and transversal (soft) skills that can support young people to find a job or start their own business.
The Toolbox is created and tested by participants of the Training course "Youth Employability Stimulators of Tomorow", organised in Szklarska Poręba, Poland from 25th January to 2nd of February 2017 by Youth Support Centre. The Training course was funded by the Polish National Agency through the Erasmus + Programme.
Find out more about the project on: www.youthemployability.wordpress.com
Tool overview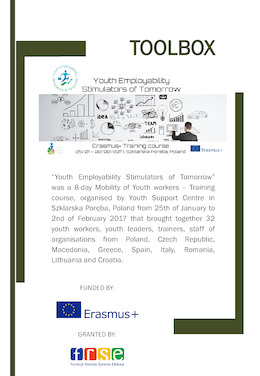 http://toolbox.salto-youth.net/2085
This tool is for
Youth workers, youth leaders, young people, educators and trainers working on the topics of youth unemployment, employability and entrepreneurship.
and addresses
Group Dynamics, Intercultural Learning, Personal Development, Youth Participation
It is recommended for use in:
Youth Exchanges
Training and Networking
Behind the tool
The tool was created by
Participants and staff from Foundation Youth Support Centre
in the context of
KA1 Youth project "Youth Employability Stimulators of Tomorrow" funded by Erasmus+ Programme
The tool has been experimented in
Training course hosted in Szklarska Poręba, Poland from 25th January to 2nd of February 2017. More info on: www.youthemployability.wordpress.com
The tool was published to the Toolbox by
Bojan Kocevski (on 2 September 2017)
and last modified
18 July 2017