Toolbox for Trainers
Aims of the tool
The aim is to offer and share new tools for non-formal education activities that can be adapted and used in various groups, with various topics.
The topics included are: communication, cooperation, teambuilding, inclusion, body awareness, sustainability.
Description of the tool
We created this booklet as a toolbox for inspiration that can be useful for trainers, facilitators, youth workers, educators or simply anoybody, who works with people and wants to design creative, interesting and interactive sessions and programmes, using non-formal education methods.
This booklet is an outcome of an international training for trainers "Youth Catalyst" that happened 16. - 23.3.2019 in the Czech Republic,
ecocentre Loutí, organised by Brno Connected and happening thanks to a grant of the European Commission from Erasmus+ programme,
supporting mobility of youthworkers. The training was designed and delivered by Kateřina Martínková and Ivan Kobelev.
The toolbox was created by trainers, facilitators and youth workers from the Czech Republic, Italy, Romania, Greece, Hungary, Portugal, Lithuania, Bulgaria and Croatia, who came to spend eight days together with intention to improve their training skills, expand their toolboxes, find their own training style and gain confidence to create
and deliver non-formal education activities in various groups and fields.
As part of practice, they wrote down an activity outline that they wanted to share and offer to others.
You will find here 24 activity outlines from different areas, each one of them written by a different person. This means that the language and style is different, as well as the lenght and topics. We didn´t edit the texts on purpose, leaving each activity its original touch from the
person who wrote it down. Some of the activities were created during the training, some of them were used and adapted here, some are coming from previous experience of the participants who wrote them down.
We want to share them with you and we hope you will find them useful!
Tool overview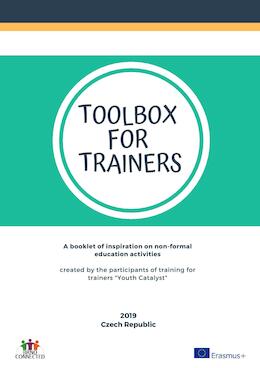 http://toolbox.salto-youth.net/2536
This tool is for
trainers, facilitators, youth workers, educators
and addresses
Group Dynamics, Intercultural Learning, Personal Development, Conflict Management, Youth Participation
Behind the tool
The tool was created by
Kateřina Martínková, Brno Connected
in the context of
Training for Trainers "Youth Catalyst", 16.-23.3.2019, Czech Republic
The tool was published to the Toolbox by
Katerina Martinkova (on 29 August 2019)
and last modified
2 May 2019