Toolbox for Trainers vol. 2
Aims of the tool
The aim is to offer inspiration on NFE session design and share new tools for non-formal education activities.
Description of the tool
We created this booklet with the intention to share what was created in the training and might be useful for trainers, facilitators, youth workers, educators or simply anoybody, who is active in non formal education and youth work and wants to design creative, interesting and interactive sessions and programmes.
This booklet is an outcome of an international training for trainers "Youth Catalyst 2.0" that happened 30.10. - 6.11.2021 in the Czech Republic, the ecocentre Loutí, organised by Brno Connected. The project was funded
through a grant of the European Commission from Erasmus+ programme, supporting mobility of youthworkers. The training was designed and
delivered by Kateřina Martínková (CZ, organisation Brno Connected) and Arianna Impinna (IT, organisation Youth Connect).
The content of this toolbox was created by all the participants - trainers, facilitators and youth workers from the Czech Republic, Italy, Romania, Greece, Hungary, Poland, Lithuania, Bulgaria and Croatia, who came to spend eight days together with intention to improve their training skills, expand their toolboxes, find their own training style and gain confidence
to create and deliver nonformal education activities in various groups and fields. As part of their practice, the participants worked in small teams and designed and delivered an hour long nonformal education session on a topic that was relevant for the group. Here you will find the description of the full sessions, feel free to use part of it, get inspired with a certain activity or a technique or maybe the full session.
Tool overview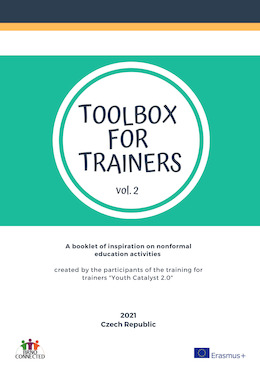 http://toolbox.salto-youth.net/3115
This tool is for
youth workers, trainers, facilitators, educators, teachers.
and addresses
Networking and Follow-up, Intercultural Learning, Personal Development, Conflict Management, Evaluation
Materials needed:
Materials needed are described for each session specificall.y
Behind the tool
The tool was created by
Brno Connected
in the context of
KA1 training for trainers "Youth Catalyst 2.0", 30.10. - 6.11.2021, the Czech Republic
The tool has been experimented in
in the mentionned training for trainers
The tool was published to the Toolbox by
Katerina Martinkova (on 8 January 2022)
and last modified
4 January 2022