Tips for youthworkers and trainers - Guerrilla Youthwork
Aims of the tool
This tool should help small and medium NGOs, trainers and youthworker on how to find solutions for organizational challenges and lack of resources.
Description of the tool
The tool has different kind of tips that can help small and medium NGOs on how to better find or manage resources. in example - tips on how to find a sustainable office solution, how to do inkind fundraising, how to make political influence and networking, how to manage the finances in the organization and many other ideas.
Tool overview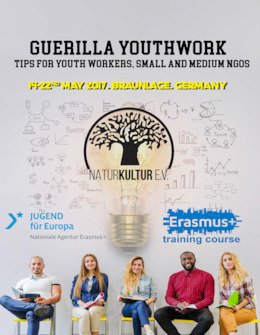 http://toolbox.salto-youth.net/2123
This tool addresses
Organisational Management
It is recommended for use in:
Training and Networking
Behind the tool
The tool was created by
NaturKultur e.V.
in the context of
The tool was created during Guerrilla youthwork training and networking course in Germany
The tool has been experimented in
Guerrilla Youthwork
The tool was published to the Toolbox by
Darko Mitevski (on 21 October 2017)
and last modified
30 September 2017