Theatre of Values
Aims of the tool
"Theatre of Values" aims to enable the mentally disabled people to understand the universal values in a wide perspective and present them to the society in a theatrical way.
All the participants (Turkish and Spanish) are mentally disabled young people. The objectives that we expect to do from the participants:
* understand the universal values such as respect, responsibility, fairness, honesty, thrustoworthiness, understanding, tolerance, care and compassion, inclusion, etc. with role-play technique
* develop positive team relationships
* share a commitment to 'doing your best' in a collaborative task
* respect for others' views and ways of working
* resolve conflict and disappointment
* develop resilience and optimism through dialogue and exchange
* build collaborative team and community relationships
* articulate the link between the values of a place and personal and community wellbeing
* enact empathy, integrity and care for others in community and group interactions
* develop small motor skills by making their own stage properties, accessories and costumes
* realise and respect another culture
* feel self-confident, enthuisiastic and motivated to explore and learn in a blended cultural atmosphere
Description of the tool
Receiving respect by the others is based on living with principles and universal values. Communicating our values and reminding people who sorround us will not only give us our selfrespect back, but it will also improve our relationships and overall happiness. It is also necessary for the disabled people to see the necessary respect in the society. It is an indispensable indicator of a life with principles that society must accept and embrace them by preserving our values. The project has two partners: Government of Sinop from Turkey and Associació Alba from Spain. The exchange took place in Tarrega, Spain between 12 - 20 May 2019. There were 20 participants (all mentally disabled), 4 leaders and 20 accompany people).
In the exchange, we referred to non-formal learning methods such as name games, team building games, ice breakers, role-play, brain storming, group work, open space, as well as special education methods which will be our guidebook and some of theater techniques were used, such as breathing exercises, tongue exercises and body exercises.
Tool overview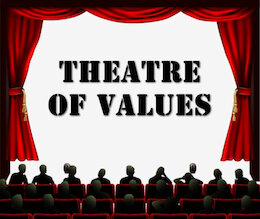 http://toolbox.salto-youth.net/2591
This tool is for
The "Values Theater" Handout is a guide not only for the participants (mentally disabled people) in the exchange, but also for all of the institutions, organizations and individuals who want to preserve, teach and remind everybody the universal values.
and addresses
Disability, Personal Development
It is recommended for use in:
Youth Exchanges
Behind the tool
The tool was created by
Irem Ebru Kuru
The tool has been experimented in
Youth Exchange
The tool was published to the Toolbox by
Irem Ebru Kuru (on 26 September 2019)
and last modified
21 August 2019