The Youth for Creative Identities Card Game | A How-to-Guide for Youth and Youth Workers
Aims of the tool
The main objective of the "identity cards" is to offer the vocabulary and conceptual background for youth and youth workers to understand identity-related dynamics (the formation of higher and lower status identities, conflicts, stigmatization, discrimination based on identity and others). The cards were developed with the intention of offering a conceptual framework of identity threats that can emerge within youth groups and in their daily lives. Identity is a critical issue when working with young people, but it is not always addressed appropriately in youth worker training.
Description of the tool
Both the identity cards and the activities developed take into account how identity-based conflict manifests itself in online and offline contexts. Special consideration was given to incorporating critical media literacy skills development into these activities. Some of the innovative features that were used for the creation of these materials are: storytelling; horizontal work on identification of relevant phenomena; embedding presentation of theoretical concepts in personal stories and in the playful format of cards.
The card game together with this how-to guide have the ambition to focus on highly complex and sensitive issues which too often lead to the polarisation of opposing arguments. Members of the minorities, having experienced discrimination regularly, have developed self-defence strategies that relieve them from the duty of "educating members of the majority". Therefore, many activist groups supporting members of minorities adopt internal rules that allow members of oppressed communities to express any concern in any way they can, to avoid the risk of tone polishing, which justifies not listening to an argument merely because it is not presented in the proper form. All these (often necessary) measures do not facilitate dialogue and run the risk of alienating moderate observers and by-standers. Our deck of "identity cards" and the collaborative co-constructive process have the potential to become a first step in establishing a culture of safe dialogue in these delicate and sensitive subjects.
Tool overview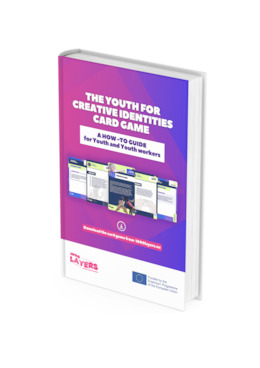 http://toolbox.salto-youth.net/3459
This tool is for
This handbook was created to aid in youth work with creative identities and it is intended for: - Young people and youth groups - Youth workers, organisations and local governments working with minority groups and youth in general - Organisations involved in the training of youth workers
and addresses
Social Inclusion, Anti-Racism, Group Dynamics, Intercultural Learning, Gender issues
It is recommended for use in:
Training and Networking
Behind the tool
The tool was created by
DW-RS (Netherlands), YEU Cyprus (Cyprus), Rooftop Theatre (Cyprus), Élan Interculturel (France), La Xixa (Spain)
in the context of
"1000 Layers: Youth for creative identities" (Project no. 2020-1-ES01-KA204-082412)
The tool was published to the Toolbox by
Irantzu Casajus (on 13 February 2023)
and last modified
22 December 2022