The Power Behind Good Intentions. A toolkit for critical European volunteering organisations and Global Education practitioners
Aims of the tool
We want to question and deconstruct what lies behind "good intentions" that volunteers from the Global North have, when they go to the Global South. What does it mean to "help" in a context of colonialism and ongoing economic exploitation? We aim to break racist and colonial stereotypes and hope to motivate organisations to work on global justice and peace rather than reinforcing existing harmful structures.
The aim of this manual is not to focus on the Global South itself, but on the European
organizations' perception of Global South and how it influences the picture of volunteering.
Description of the tool
If formal education doesn't make young people aware of global injustice and its long history, we as volunteering organisations need to step in.
We see three necessary steps:
1. European volunteering organisations have to make colonial history and global injustices stemming from it the primary topic in a mandatory critical and anti-colonial preparation of their volunteers.
2. European volunteering organisations have to make an intense evaluation with volunteers whom they do send to the Global South to give space for reflecting their experiences from an anti-colonial perspective.
3. European volunteering organisations have to speak out about global power imbalances through awareness-raising actions and advocacy in Europe.
4. Most importantly, European volunteering organisations have to become aware of racism and neocolonialism within their own structures and partnerships.
Tool overview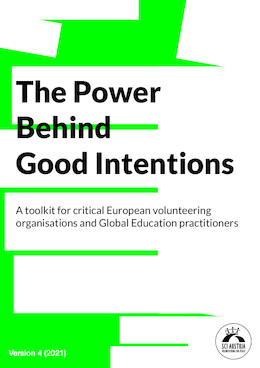 http://toolbox.salto-youth.net/3064
This tool is for
Youth workers, volunteering organisations, Global Education practitioners
and addresses
Anti-Racism, Voluntary Service, Intercultural Learning, Personal Development
Behind the tool
The tool was created by
SCI Austria
in the context of
seminar "Develop or Self-Develop"
The tool was published to the Toolbox by
Thomas Schallhart (on 14 February 2023)
and last modified
11 November 2021