Tool overview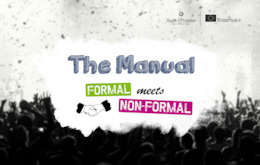 http://toolbox.salto-youth.net/1853
This tool is for
Educators - teachers, youth workers, youth leaders, facilitators, trainers.
and addresses
Networking and Follow-up, Peer education
It is recommended for use in:
Youth Exchanges
Training and Networking
Behind the tool
The tool was created by
NGO "Youth Epicenter"
in the context of
International training course "Formal meets Non-formal: Cross-sectorial cooperation in the educational field", contract No. Contract No. 2015-1-LT02-KA105-003943. The project was funded by the European Union programme Erasmus Plus.
The tool was published to the Toolbox by
Justina Garbauskaite-Jakimovska (on 19 September 2016)
and last modified
29 May 2016