Social Advertmakers' Handbook
Aims of the tool
- To raise awareness on the social issues relevant to the work of participants among them and their target groups using the multimedia tools of photography and videography;
- To stimulate the sense of entrepreneurship and responsibility for their work among participants through the creation of new methods of stimulating the active work of young people.
- To help youth initiate debate on the issues relevant to their local community using media, art and space;
Description of the tool
Social Advertmakers' Handbook contains information about TS "Social Advertmakers" and tools that can be used for promoting the social activities in society, using the art of photography and video making.
Content of the handbook:
- Project description and objectives
- Erasmus+ program and Latvian National Agency
- Basics about Photography
- Basics about Video Making
- Basics about Social Media
- Partners of the project
- Information of applicant and hosting organisation "Latvijas Jauniešu Attīstības Centrs".
The Training-Seminar "Social Advertmakers" was a 10 days project that took place in Kegums, Latvia between 30th August to 8th September 2017. It gathered 39 youth workers working with different social issues, to discover and explore the tool of videography for promotion of their activities, disseminate the results in a more professional and attractive way and as a result – to engage more active young people in their work and bring attention of a wider public to the social issue of children exclusion of their local community and country.
The project brought together people from different EU countries: Latvia, Lithuania, Estonia, Romania, Spain, Denmark, Germany and Poland.
Tool overview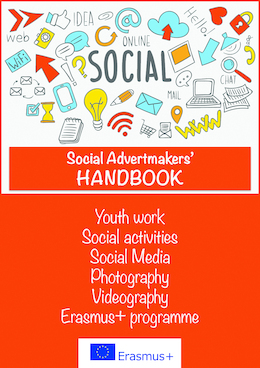 http://toolbox.salto-youth.net/2116
This tool addresses
Social Inclusion, Networking and Follow-up, Intercultural Learning, Personal Development, Evaluation
Behind the tool
The tool was created by
participants of the TS "Social Advertmakers"
The tool was published to the Toolbox by
Aleksandrs Posts (on 21 October 2017)
and last modified
22 September 2017