Quality handbook on facilitation FACE
Aims of the tool
We strongly believe that nowadays Youth workers need knowledges, tools and methods on facilitation of Youth groups because of the social importance of their role. They are social facilitators for Youth inclusion, especially for youth with fewer opportunities.
- Provide Youth Workers with practical tools of facilitation to use with youth for raising their self-efficacy and empowering them in their personal and professional life, especially those with fewer opportunities (NEET, migrants,..)
- Improve youth work quality and enhance the role of youth workers and NGOs as social facilitators;
- Recognition of the educational value of NFE activities - to spread in order to contribute to Youth Workers empowerment.
Description of the tool
What does a Facilitator do? Who is a Facilitator?
The booklet proposes methods and exercises to boost some of the Skills (Learning to Learn awareness, Effective Communication, Problem Solving, Creativity, Time management, Public speaking, Conflict Management, Designing a workshop) that a Facilitator should have.
A very practical learning with a session about designing a workshop and performing it!
We will use non-formal tools, Videos, simulation games, Theatre exercises, experiential games, coaching and self-directed learning, taking care to provide a strong experiential impact on participants and organisations.
Tool overview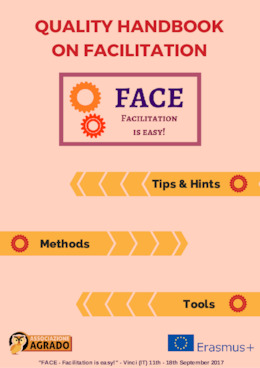 http://toolbox.salto-youth.net/2161
This tool is for
Trainers, Youth workers, Educators
and addresses
Personal Development
It is recommended for use in:
Training and Networking
Behind the tool
The tool was created by
Associazione Agrado
in the context of
Training course "FACE - Facilitation is easy!"
The tool was published to the Toolbox by
Laris Guerri (on 11 March 2018)
and last modified
7 November 2017