Partnership Building Activity, Manual
Description of the tool
This manual is a practical guide for those involved in organising Partnership-Building Activities (PBA) within the Youth in Action Programme (YiA), particularly those working with Eastern Europe and the Caucasus (EECA).
Most tools and methods presented in this manual are both comprehensive and ready to use, as well as being adaptable to readers' particular needs.
Tool overview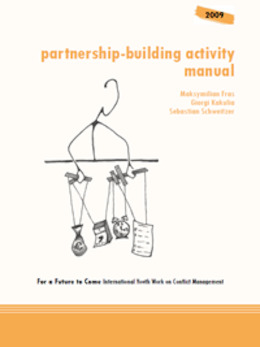 http://toolbox.salto-youth.net/1103
This tool is for
Youth workers
and addresses
YOUTH in ACTION (YiA) programme, Project Management, Eastern Europe and Caucasus
Behind the tool
The tool was created by
Unknown.
(If you can claim authorship of this tool, please contact !)
The tool was published to the Toolbox by
Giorgi Kakulia (on 19 June 2009)
and last modified
19 June 2009