MORE THAN A REFUGEE (HANDBOOK FOR YOUTH WORKERS)
Aims of the tool
This tool is an outcome of youth workers in the multimedia sessions in the training course More Than a Refugee. The youth workers worked all together to share the applications, activities and facilitating actions held during the project in terms of policy-making on the topic of social inclusion of women and children refugees. This tool is made to inspire youth workers, coordinators, decision-makers and others who are working related to human rights in general, working with disadvantaged groups and refugees.
Description of the tool
This Salto Youth tool is prepared for More Than a Refugee Erasmus+ Mobility of Youth Workers in Istanbul, 12-19 April 2018. This handbook involves the whole process of the training course, expected and obtained outcomes, sessions, meetings held during the project in order to foster the social inclusion of women and children Syrian refugees; living especially in Turkey. This handbook can be used as a source for those who are looking for dissemmination activities for projects related to social rights, human rights, refugee issues, migrants, social inclusion, women and children. This tool involves the organization information of all organizations that participated to this project, the expected outcomes and real outcomes of the project, the glossary of the project words, the activities that are seperated according to their features, digital works that are initiated to foster the digital competence of the youth workers and creative writing section written for a Syrian child which was invited to our project to share her story. This handbook, in this way, concludes a whole project by structurally summarizing its benefits, main activities and aims.
Tool overview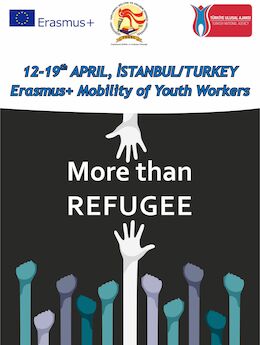 http://toolbox.salto-youth.net/2297
This tool addresses
Social Inclusion
It is recommended for use in:
Training and Networking
Capacity Building
Behind the tool
The tool was created by
Unknown.
(If you can claim authorship of this tool, please contact !)
The tool was published to the Toolbox by
Hakkı Cesur Kılıç (on 5 June 2018)
and last modified
20 May 2018