Let's work it out: innovative approaches to youth work and employment
Aims of the tool
Main aims of the publication are the following: (1) to make analysis of the current unemployment in four countries - Northern Ireland, Portugal, Greece and Croatia; (2) to provide possible solutions of unemployment to young people (created by youth workers); (3) to empower youth workers through creation of series of workshops which can be used in training sessions or in working with young people.
Description of the tool
The publication "Let's Work it Out: Innovative Approaches to Youth Work and Employment" is consisted of two important parts: first deals with youth unemployment in general, with emphasis on unemployment in four countries which participated on the training course "Entrepreneurship School for Youth Workers" – Northern Ireland, Portugal, Greece and Croatia. This part also deals with solutions to youth unemployment – some of them are quite innovative and encouraging, while others are connected with systematic change that needs to be done on a national and international level. Second part is quite useful for youth workers and trainers – a set of workshops were created, which can be used with young people in different local communities.
Tool overview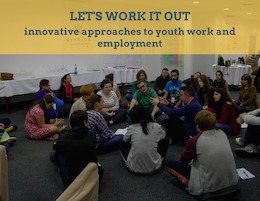 http://toolbox.salto-youth.net/1820
This tool is for
youth workers, trainers, young people
and addresses
Personal Development, Youth Participation
It is recommended for use in:
Training and Networking
Behind the tool
The tool was created by
Forum for Freedom in Education
in the context of
project "Entrepreneurship School for Youth Workers"
The tool was published to the Toolbox by
Domagoj Morić (on 12 May 2016)
and last modified
22 March 2016