IO2 - Digitalization of Non Formal Education: Methods, Tools and Experiences
Aims of the tool
1. Providing the necessary context to understand what digital education is from a generic point of view and how it is applied in Europe.
2. Listing several initiatives and educational programs aimed at closing the digital skills gap and equipping young people with the abilities they need to succeed and thrive in the digital economy.
3. Classifying digital platforms and tools that support seamless integration of the core principles of non-formal education.
4. Providing strategic and operational recommendations on the implementation of digitalization within the non-formal sector.
Description of the tool
The purpose of this research is to introduce and support the youth organizations for the much needed digitalization of non-formal education. The digital tools
are already widely used by the youth work sector for dissemination and
exploitation of Erasmus+ projects results. However, we as youth workers are still
struggling to functionally operate online as learning providers. Along with this,
while in the context of Covid-19 pandemic the formal education sector was
able to immediately jump into online education, exploiting existing digital
technologies, the youth work sector still has to understand how the non-formal
education can follow this path, considering its cross-border nature, capitalized
achievements and keep bonded connection to its target groups.
In the current context, our proposal thus is focused on finding creative solutions
to support the youth work sector to step into the virtual world, in order to reach
our target group, young digital natives, that are already there.
Tool overview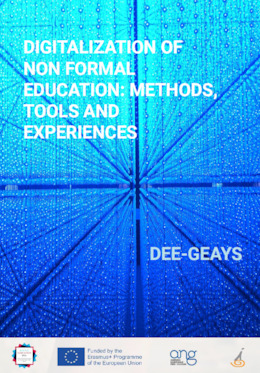 http://toolbox.salto-youth.net/3489
This tool addresses
Project Management, Personal Development, Organisational Management
It is recommended for use in:
Strategic Partnerships
Behind the tool
The tool was created by
Unknown.
(If you can claim authorship of this tool, please contact !)
The tool was published to the Toolbox by
Stella Gelmini (on 25 January 2023)
and last modified
18 January 2023