Handbook for outdoor games
Aims of the tool
Through this project the young people discovered the fun of learning together by trying to play games from other countries with different culture. The games assist in the promotion of multi-cultural understanding which is closely related to aspects of personal and social development, offering participants the opportunity to learn about themselves and other cultures, leaving aside PC and internet games.
Through this project they also had the opportunity to create new multi-culti games, experiencing a decision-making process and meeting new cultures and values.

Description of the tool
During the 10 days of the youth exchange, 36 young people from six countries with different cultural backgrounds got involved in playing and testing different creative and traditional outdoor games from each country, reflecting the historical, geographical, educational, social and economical conditions of the community they belong to.
In this digital handbook, created by our ESC Volunteer from Poland, Bartosz Chomik, anyone who is interested on the topic can find the rules and descriptions of these games and share them within the groups of young people is working with.
Play with me and learn from me is the title of the youth exchange project under Erasmus+ program, which took place in the town of Nea Moudania in Greece from 3rd to 12th of June 2019, by "You in Europe" Non Profit NGO. Our Partners Organizations were, SE.M.I. form Italy, AJ INTERCAMBIA from Spain, AKTO HUMAN RIGHTS AND DEMOCRACY from Portugal, MLADINSKI CENTER TRBOVLJE from Slovenia and STOWARZYSZENIE DOROSLI-DZIECIOM from Poland.
Reference code number: 2018-3-EL02-KA105-004657
Tool overview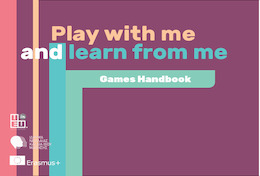 http://toolbox.salto-youth.net/2753
This tool is for
youth workers, youth leaders, educators
and addresses
Social Inclusion, Group Dynamics, Youth Initiatives, YOUTH in ACTION (YiA) programme, Intercultural Learning
It is recommended for use in:
Youth Exchanges
Training and Networking
Behind the tool
The tool was created by
YOU IN EUROPE NGO
The tool has been experimented in
Youth exchange
The tool was published to the Toolbox by
IOANNA THOMOPOULOU (on 14 July 2020)
and last modified
7 February 2020