Explore Power of Nonformal Learning!
Aims of the tool
Improve the quality of non formal learning process and explain differences between formal and nonformal learning.
Description of the tool
You can find information about methods of better learning process, definition and details of formal and non formal education, importance of feedback and some other project outcomes.
Tool overview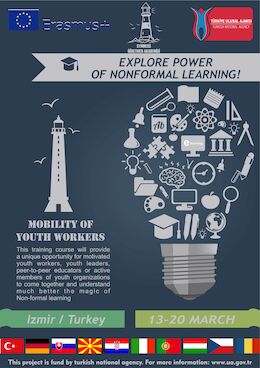 http://toolbox.salto-youth.net/2299
This tool is for
youth workers, teachers.
and addresses
YOUTH in ACTION (YiA) programme, Personal Development
It is recommended for use in:
Training and Networking
Behind the tool
The tool was created by
Unknown.
(If you can claim authorship of this tool, please contact !)
The tool was published to the Toolbox by
Serhat Barka (on 13 June 2018)
and last modified
28 May 2018