Experiential education including disabled participants
Aims of the tool
The goal of the handbook is to introduce the readers to the concept of experiential education and it's use with people with disabilities, main principles and models, couple of activities used during the training and in the follow-up local projects.
Description of the tool
The "Ability" training was organized between 9-19 August 2016 with financial support of the Erasmus Plus program.
The origin of the project is the fact that people with disabilities are often subject of discrimination and are often excluded in many areas of the society.
The experiential education method can be adapted to different target groups, abilities, development goals and it is very effective in development of self-knowledge and self-confidence and development of abilties.

Tool overview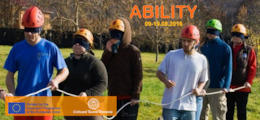 http://toolbox.salto-youth.net/2016
This tool is for
Youth workers, volunteers, trainers working with disabled people.
and addresses
Disability, Intercultural Learning, Personal Development
It is recommended for use in:
Training and Networking
Behind the tool
The tool was created by
Outward Bound Romania
in the context of
Ability training-Erasmus Plus
The tool has been experimented in
training
The tool was published to the Toolbox by
Orsolya Toth (on 1 August 2017)
and last modified
17 February 2017