EVS Manual
Aims of the tool
An EVS project is a partnership between two or more promoting organizations. These organizations are responsible for recruiting volunteers for their project. Project are usually from 2 weeks to 12 months, and as a volunteer you have a wide range of fields to choose what you best do, such as culture, youth, sports, children, cultural heritage, arts, animal welfare, environment and development cooperation.
Description of the tool
The Manual will help all the evs interested young people who are in a process of getting know the EVS as a great life time experience to volunteer in a different country and gain and share their skills and competences.
Tool overview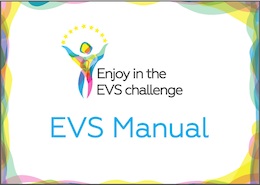 http://toolbox.salto-youth.net/1578
This tool is for
Young people from 18-30 years old
and addresses
Voluntary Service
It is recommended for use in:
European Voluntary Service
Behind the tool
The tool was created by
NGO Sfera
in the context of
Erasmus + training course
The tool has been experimented in
Training Course
The tool was published to the Toolbox by
Milcho Duli (on 29 November 2014)
and last modified
8 November 2014