Erasmus+ Quality Handbook
Aims of the tool
Help especially newcomers in project mangement. Useful tips, tools and methods for giving projects quality.
Description of the tool
Handbook produced by participants of the Seminar "Erasmus+ Connection", held in Vinci, Italy in June 2014 and organised by Associazione Agrado.
Divided in quality steps for each project phase with tools, tips and methods. In 4 languages: EN, IT, PT, EL.
It can be useful for who is organising a project under Erasmus+ to remember the quality tips and steps in each phase of the project. Especially for newcomers. It will be a simple, practical guide for your first steps in the Programme.
Tool overview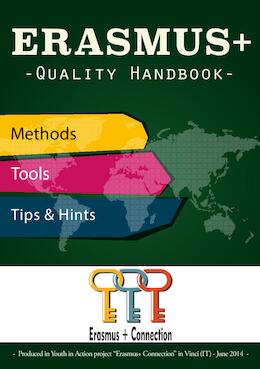 http://toolbox.salto-youth.net/1626
This tool addresses
Project Management
Behind the tool
The tool was created by
Participants Group of Erasmus+ Connection
in the context of
Erasmus+ Connection - Seminar
The tool was published to the Toolbox by
Laris Guerri (on 17 April 2015)
and last modified
8 April 2015