Entrepreneurial cards
Aims of the tool
The aim of the entrepreneurial cards as a tool for youth workers is to educate and inspire young people about social entrepreneurship. The tool aims to provide a structured and engaging learning experience, enabling youth workers to effectively teach the principles and practices of social entrepreneurship to the youth they work with. The cards are designed to achieve several objectives:
Education: The tool aims to educate young people about the concept of social entrepreneurship and its significance in addressing social and environmental challenges.
Skill Development: The tool aims to develop essential skills and competencies related to social entrepreneurship. It focuses on teaching young people about creating business plans, identify their passions and purpose through ikigai, pitch their ideas effectively and understand their target audience.
Inspiration and Motivation: The tool aims to inspire young people to think creatively, embrace innovation, and make a positive impact in their communities.
Practical Application: The tool aims to be able for free usage by youth workers around the world. It can be easily used by being printed on both sides of the paper.
Description of the tool
The tool consists "Entrepreneurial cards" is designed to provide a comprehensive and engaging educational experience for young people interested in social entrepreneurship. Each card within the tool follows a structured format, including an explanation of the topic, a task for participants, and a video created by young people during the Erasmus+ youth exchange program called "Little act, true change."
The explanation section of each card provides informative overview of the topic. It offers concepts, and theoretical foundations related to the element focused on.
The task section of each card presents a specific activity or exercise for participants to complete. These tasks are designed to encourage active learning and hands-on engagement with the topic.
The video component of each card showcases a video created by young people during the Erasmus+ youth exchange program titled "Little act, true change." These videos serve as practical illustrations of the topic being discussed. They provide insights of young people who were learning about the topics.
The learning outcomes of this tool are:
Understanding of Social Entrepreneurship: Participants will gain a clearer understanding of the concept of social entrepreneurship.
Business Model Development: Participants will learn how to develop a business model canvas for their social enterprise ideas.
Ikigai Exploration: Participants will explore the concept of ikigai and learn how to align their passions, skills, and purpose to create meaningful and impactful social ventures.
Effective Pitching Skills: Participants will develop skills in crafting and delivering persuasive pitches for their social enterprise ideas.
Target Audience Analysis: Participants will understand the importance of identifying and analyzing their target audience, enabling them to tailor their offerings and strategies accordingly.
Motivation and Inspiration: Participants will be inspired, gaining motivation and confidence to pursue their own social entrepreneurship endeavors.

Tool overview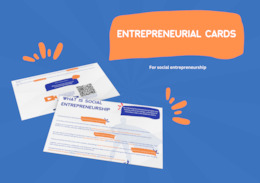 http://toolbox.salto-youth.net/3750
This tool addresses
Youth Initiatives
It is recommended for use in:
Youth Exchanges
Behind the tool
The tool was created by
Blanka Hlad, Anja Milković
in the context of
Youth exchange: Little act, true change
The tool was published to the Toolbox by
Katarina Habek (on 15 August 2023)
and last modified
14 July 2023