Embodied Peacebuilding: Collection of Ideas and Resources
Aims of the tool
This publication was created for those who are working in fields of peace education and peacebuilding with aim to share experience, useful resources about embodied learning approaches and peacebuilding, and suggest ideas for your own work. It won't provide you a recipe for complete peacebuilding training, but will reveal directions which you could explore, as well as offer several elements and methods that could be included in the peace education and peacebuilding activities.
Description of the tool
The publication will give you insights about topics such as understanding peacebuilding, embodiment, embodied peacebuilding and somatic learning, building culture of peace in the group, storytelling and peacebuilding, peace education themes and competences. You will also find guidelines for working with body and movement in the context of non-formal education and several sample training exercises.
Tool overview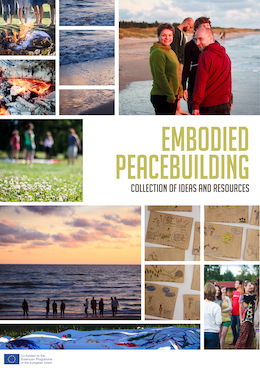 http://toolbox.salto-youth.net/2042
This tool addresses
Intercultural Learning, Personal Development, Conflict Management
It is recommended for use in:
Youth Exchanges
Training and Networking
Behind the tool
The tool was created by
Unknown.
(If you can claim authorship of this tool, please contact !)
The tool was published to the Toolbox by
Inese Minsi (on 1 August 2017)
and last modified
12 April 2017