DVD Video-school "Traditional Dances of Belarus Encyclopedia"
Aims of the tool
Will be sent for free by post.
This tool is aimed to give trainers an opportunity to energize participants by learning together some simply movements with traditional music (within this DVD).
Participants have possibility to get acquainted to traditional culture of Belarus to feel more deeply the intercultural differences and similarities with their own culture.
This tool is also a great entertaining tool for intercultural evenings, parties, "meeting evenings" and dinners Out.
Description of the tool
Order it - and it will be sent for free by post.
DVD Video-school "Traditional Dances of Belarus: Encyclopedia" contains 10 traditional dances, their descriptions on Belarusian and English language, their video-demonstrations (easy-to-learn) and music for that dance in MP3 format.
It would be sent for you by post if you order it. For your request. It would be sent for free. For some special issues we may ask you to cover the post costs, but for the most part of issues we can pay it by ourselves.
A set of video-lessons of traditional dances of Belarus.
Please provide me direct post address to sent the DVD to. It would be great if you may contact me by e-mail bekar@tut.by first to recognize, am i have enough money to sent it by myself.
In a case if you can guarantee you will grant this DVD to local libraries (music schools, dance schools) to make it shared for everybody, i can guarantee to sent you enough amount of DVDs by myself.

Tool overview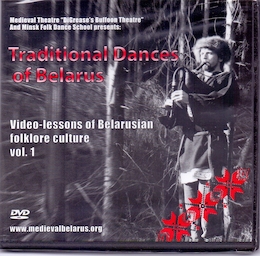 http://toolbox.salto-youth.net/1609
This tool is for
Youth; Youth workers; Youth leaders; Libraries, music schools, dance schools;
and addresses
Social Inclusion, Group Dynamics, YOUTH in ACTION (YiA) programme, Intercultural Learning, Eastern Europe and Caucasus
It is recommended for use in:
Youth Exchanges
Training and Networking
Materials needed:
Duration:
Behind the tool
The tool was created by
Aliaksej Burnosenka (youth trainer, trainer of trainers, public speaking, acting and performing expert)
in the context of
Project management of YE and training.
The tool has been experimented in
youth exchanges, etc.
The tool was published to the Toolbox by
Aliaksej Burnosenka (on 17 September 2017)
and last modified
13 March 2015