Digital Guide "Entrepreneurship 4 Youth"- role of NFE in supporting entrepreneurship
Aims of the tool
The Digital Guide "'Enteperenurship 4 Youth'' ís developed in cooperation between experts from Association Alternativi International from Bulgaria, Projuven from Spain, Nooruse Maja from Estonia and Mobility Friends from Portugal. It aims to provide youth workers with a better understanding of entrepreneurship and the role of non-formal learning in supporting entrepreneurship among young people as well as to give youth workers practical methods, tools and practices that they can adopt and adapt to their context and so make it easier to promote entrepreneurship among young people. The current material is created in cooperation between the partner consortium and is a digital guide for youth workers to support youth entrepreneurship.
This digital guide provides sufficient knowledge and information based on case studies, best practices and concrete examples from across Europe regarding entrepreneurship, digital technologies and digital entrepreneurship, success stories of entrepreneurs, roles of NGOs in supporting young entrepreneurs and concrete methods and tools of non-formal education. The guide is divided into 4 main chapters, each one developed by practitioners and experts in the field.

Description of the tool
In the firstchapter developed by Nooruse Maja you will find relevant information and get an overview of the role of NGOs in supporting young people becoming entrepreneurs by consultation, counselling, advice, financial support, soft skills development, etc. Moreover, there is a highlight on the importance of cooperation between NGOs and business-you will understand why entrepreneurs need NGOs. The second chapter is developed by Association Projuven and will provide you with key terms related to digital technologies and its relation to entrepreneurship- you will learn about digital entrepreneurship - digital and content marketing, e-commerce, social media usage, digital communication and other online tools and strategies. The third chapter developed by Alternativi International will give you another perspective-an overview of non formal education methodology and tools how to encourage entrepreneurial spirit in young people or how to tackle entrepreneurship topic youth work-trainings, seminars, exchanges or other youth events as well as give you share key findings and developed methods during the training event in Parnu, Estonia. The very last chapter of the guide is practical yet inspirational - you will learn from success stories of entrepreneurs from across Europe. Furthermore, the chapter gives definition and tips of what successful entrepreneur is.
The guide is developed by experts and practitioners in the field and will give you a extensive overview of the topic but we suggest you taking a look at the educational modules where even more knowledge, tools and resources are shared.

Tool overview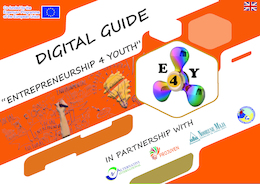 http://toolbox.salto-youth.net/2604
This tool is for
Youth workers, Youth leaders and active volunteers
and addresses
YOUTH in ACTION (YiA) programme, Personal Development, Peer education, Youth Participation
It is recommended for use in:
Training and Networking
Strategic Partnerships
Behind the tool
The tool was created by
KA2 CONSORTIUM "Entrepreneurship 4 Youth"
in the context of
This digital guide was created in the framework of the project KA2 Strategic Partnership in the field of Youth "E4Y" (2017-3-EE01-KA205-046743)
The tool was published to the Toolbox by
Georgi Kuzmanov (on 18 September 2019)
and last modified
15 September 2019