Tool overview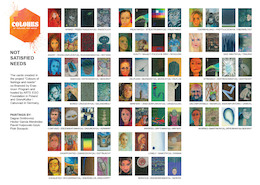 http://toolbox.salto-youth.net/2939
This tool is for
This is an innovative tool designed for trainers, educators, youth workers, teachers, coaches and everyone who facilitates groups and individuals. It supports the process of recognising, describing and expressing feelings and needs of participants regardless their age, culture and background.
and addresses
Group Dynamics, Personal Development, Evaluation
It is recommended for use in:
Training and Networking
Strategic Partnerships
Materials needed:
You may download all needed materials (cards and the manual) and watch the intoductory move to the tool here: https://cardsoffeelings.wixsite.com/cards under CC BY-NC-ND 4.0 lincence
Duration:
From 15 min (as element of a session) to several hours.
Behind the tool
The tool was created by
Colours of feelings and needs / 256 cards by Dagna Gmitrowicz, Ester Vescovi, Paweł Hulpowski Szulc, Piotr Borzęcki, Hector Garcia Menendez, Fundacja ARTE EGO, GRENZ KULTUR CABUWAZI is licensed under CC BY-NC-ND 4.0
in the context of
The tool was developed in the project "colours of feelings and needs" financed by Erasmus+ strategic partnership, created and implemented by ARTE EGO Foundation in Poland and GrenzKultur/Cabuwazi in Germany.
The tool has been experimented in
several group and indiviual sessions
The tool was published to the Toolbox by
Marta Brzezińska-Hubert (on 11 November 2020)
and last modified
1 November 2020