Booklet 100% Human
Aims of the tool
This tool is designed to warn people of how much they need to respect each other, encourage tolerance, empathy and inclusiveness, and accept differences, nonviolent problem solving, promotion of human rights and EU values.
Description of the tool
The booklet can be used in individual modules as separate units depending on the workshop and the target to be used. Possible outcomes of booklet use: teamwork, energisers, icebreakers, self-assessment tools, EU values, thinking module, audio visual workshop, city challenge, creative Facebook profile, workshop of Human rights, Explanation of Xenophobia, discrimination, racism and prejudice , Making the movies, Speakers Corner - freedom of speak, Mission Z . non-conflict solutions, creative workshop and evaluation tools.
It can also be used in interactive Approach to the realisation of intercultural events, influence on the local community, organisation of joint activities in discovering the historical and traditional attractions of the region in which it is located.

Tool overview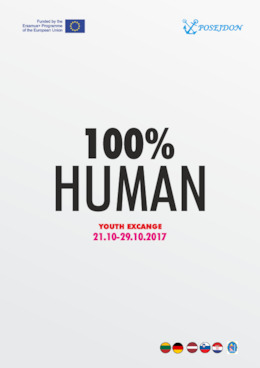 http://toolbox.salto-youth.net/2227
This tool is for
Target group are young people from 13 +
and addresses
Social Inclusion, Anti-Racism, Intercultural Learning, European Citizenship, Youth Participation
It is recommended for use in:
Youth Exchanges
Materials needed:
Duration:
Behind the tool
The tool was created by
OIP Posejdon
in the context of
Youth exchange
The tool has been experimented in
Project 100% Human - program activities
The tool was published to the Toolbox by
Igor Spetic (on 26 February 2019)
and last modified
28 January 2018