Act To Understand It - Roleplay Simulation Resources
Aims of the tool
The purpose of this tool is to provide help and experience to others, that wish to apply or experiment with roleplay simulations in youth work, but are not sure where or how to start.
A simulation can be one of the most engaging and immersive methods to use in youth work. It can get people to open up and come to deep realizations about themselves and others. But at the same time simulations are very demanding, and a lot of thought needs to be put into their design and execution.
The Simulation Guidelines handbook will help you use and even create simulations and avoid pitfalls and common mistakes.
Description of the tool
The Simulation Guidelines handbook is the result of our collective learning during the Erasmus+ co-funded 'Act To Understand It' youth workers mobility project, that took place in Serbia in August of 2022. In it you will find tips and tricks, suggestions, do's and don'ts, and much more. There are also links to instructional videos from our own designed simulation activities, that further illustrate the topics is covered in the handbook.
The Murder of Alice Blunt Simulation is an example of a ready made simulation that you can use and adapt freely to your purposes, when working with young people on the topic of for example media biases. It includes a set of instructions and a series of connected PowerPoint slides.
Participating organizations in the Act To Understand It project and training were: Ways (Denmark), SFERA Serbia (Serbia), NGO People (Ukraine), Youth BCN (Spain), Forandringshuset (Norway), Rooftop Theatre Group (Cyprus), IKOS (Türkiye), STEPS Centre (Albania) and BRAVO (Bosnia and Herzegovina)
Tool overview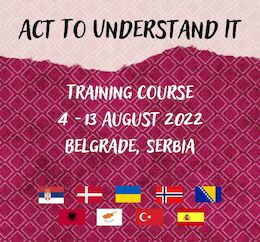 http://toolbox.salto-youth.net/3440
This tool is for
Facilitators, Trainers, Youth Workers, Youth Leaders, Youth
and addresses
Youth Participation
It is recommended for use in:
Training and Networking
Behind the tool
The tool was created by
Unknown.
(If you can claim authorship of this tool, please contact !)
The tool was created in the context of
Act To Understand It Training Course
The tool has been experimented in
Act To Understand It Training Course
The tool was published to the Toolbox by
Thomas Brisson Jørgensen (on 3 January 2023)
and last modified
3 December 2022