A little notebook with great ideas
Aims of the tool
To give ideas which inspire youth workers, and innovate youth work.
Description of the tool
This booklet contains transcripts of workshops and conversations which were held during the seminar which closed the Expanding Routes project. All of them were led by participants in the framework of a slightly altered-adapted Open Space process. The main question we had was: "How to inspire youth workers, how to innovate youth work?".
All the ideas and activity descriptions you find in the coming pages are answers given by active youth workers, trainers, peer-educators to this question. In addition, we included links to interesting websites, articles and books, so you can further enrich your knowledge and investigate each topic.
We encourage you to read, ask questions, think, discuss, debate – and last but not least, use all these ideas to create fantastic projects and programmes!
We will be happy to hear your feedback, and we will be happy to support you with even more resources.

Tool overview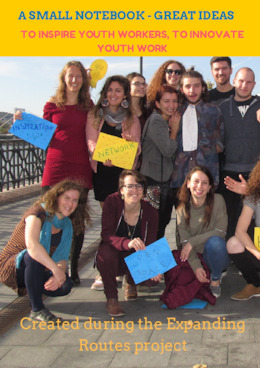 http://toolbox.salto-youth.net/2195
This tool addresses
Social Inclusion, EuroMed, YOUTH in ACTION (YiA) programme, South-East Europe, Gender issues
It is recommended for use in:
Training and Networking
Capacity Building
Behind the tool
The tool was created by
Connecting Routes Informal Group
in the context of
Expanding Routes project
The tool has been experimented in
seminar
The tool was published to the Toolbox by
Eszter Koranyi (on 11 March 2018)
and last modified
18 December 2017