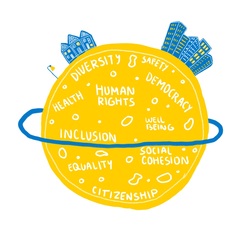 Youth Work started to develop in Georgia on its own, with great enthusiasm from the side of nongovernmental organisations working in the fields of non-formal education, human rights, participation, culture, education and youth policy.
Most of the organisations were registered in the second half of the 1990s with basic European values, as after Georgia gained its independence the EU and international aspirations were no longer obstacles for young people.
It should be mentioned that despite successes reached on the basis of enthusiasm and total voluntarism of youth organisations, it does not allow the sustainable development of this sector. On the one hand there were no quality standards for youth work in Georgia, and, on the other hand, state financial support for youth work and youth NGOs was extremely minimal. It was also challenging for organisations to get involved in internationally funded long-term projects that strengthen organisational sustainability. Without having youth work standards it is hard to define what a youth worker is or what the requirements and competencies for this activity are; it is also unimaginable to talk about numbers of youth workers, as there are no statistics on this.
Currently, the Georgian Government's systemic vision of youth work is in the process of formation. There are a number of joint initiatives by the Ministry of Sport and Youth Affairs of Georgia and the NGO sector, which support youth empowerment on a grassroots and system level, such as the Youth Workers Certification programme, municipal youth policy development, and supporting youth engagement in decision-making processes by creating municipal youth councils. Today the number the youth organisations which are actively involved in youth work activities has increased.
In recent years, a total of two large-scale studies have been conducted to determine the needs, interests and tendencies of young people based on the State's Youth Policy document. One of them took place in 2013 (National Youth Survey – Analysis of the Situation and Needs of Youth in Georgia conducted by UNICEF) and the other in 2016 (Generation in Transition – Youth Study 2016 conducted by FriedrichEbert-Stiftung).
In 2010-2011, when the first draft of the National Youth Policy document was developed, a number of consultative meetings took place with youth, youth organisations and experts which resulted in determining aims, objectives, principles and strategic directions of Georgian youth policy.
Georgia's National Youth Policy document was reviewed in 2014 under the initiative of the Ministry of Sport and Youth Affairs of Georgia (MSY) and adopted by the Government of Georgia in the same year, followed by the adoption of the National Youth Policy Implementation Action Plan (2015-2020) in the following year. According to the Action Plan, the Government of Georgia took responsibility to ensure youth policy implementation. Youth work and non-formal education features among the priorities of the Action Plan.
Read full article HERE