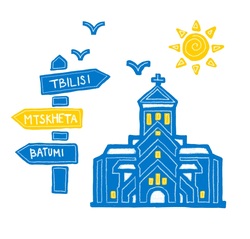 Tourism in Georgia is an increasingly important component of the country's economy. In 2015 it employed around 158,500 people, producing 6.7% of Georgia's GDP and providing US$1.94 billion of revenue.In 2019, the number of international arrivals reached a record high of 9.3 million people with foreign exchange income in the year's first three quarters amounting to over US$3 billion. The country plans to host 11 million visitors by 2025 with annual revenues reaching US$6.6 billion.
The expenditures of foreign visitors to Georgia have a significant effect on the balance of payments, and approximately 35.9% of Georgia's goods and service export revenue comes from tourism. International tourists stay an average of 6.5 days.
The official body tasked with promoting tourism to Georgia is the Georgian National Tourism Administration (GNTA). In 2016, the GNTA participated in 21 international and domestic tourism fairs, conducted marketing campaigns on 16 target markets, and hosted 99 press and familiarization trips.
Read the full article HERE
Other practical information about tourism in Georgia : 
Official web-site on Tourism in Georgia
Georgia travel guide on Wikitravel