BRUSSELS, 30-31 May 2017.
It was the first Erasmus+; Youth National Agency staff training on international youth cooperation with a specific focus on the Partner Countries Neighbouring the EU in the four regions: South Mediterranean countries, Western Balkans, Eastern Partnership countries and the Russian Federation.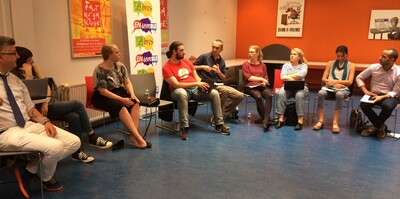 Specific objectives:
to review developments of Erasmus+ Youth in Action in NPC and share experiences about current challenges and opportunities;
to provide an update about administrative and policy developments with regard to the cooperation with NPC;
to provide up-to-date information about the needs, challenges and potentials with regard to the situation of young people and programmes for youth in all partner regions;
to reflect on interests, needs and ways to enhance the cooperation with NPC in a more strategic way, both at national and European levels;
A special place was given to connecting the decentralised and centralised strands of the Programme through sharing information and discussing the specific "Windows" for cooperation with the regions: Eastern Partnership Youth Window, Western Balkans Youth Window, Youth Window for Tunisia.