The cooperation project will pay particular attention to the core elements that would benefit from peer  support and joint development activities to realise strategic cooperation at national and  international levels for better synergies and impact in the future.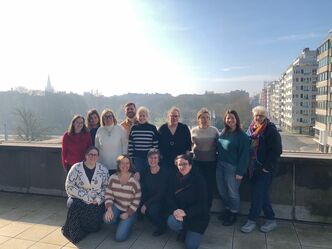 members of the steering group

Upcoming activities planned in the project:
Kick-Off Seminar on curricula in youth work education | 6-9 June 2023 | Germany | Registrations closed
Seminar on how to integrate European dimensions practically to education & training of youth workers | 7-20 October 2023 | Italy 
Steering Group meeting | Jan 2024 | Ireland
Closing Conference |  4-8 November 2024 | Latvia
Past events:
Online Meeting focusing on the national strategies of partners |  10 November 2022
Residential steering group meeting topics: Expert Group |  8-10 February 2023 |  Belgium-Flanders
Inclusive youth work Study Visit |  March 2023 | Ireland
Expert group meeting on accreditation and certification | 3-5 May 2023 | Estonia
Involving the National Agencies for Erasmus+ and Eurpean Solidarity Corps of:  
Belgium Flanders
Estonia
Hungary
Italy
Ireland
Latvia
Germany

Coordinated by JUGEND für Europa and SALTO Training & Cooperation Resource Centre. Strong synergies will be made with the implementation of the European Training Strategy to  avoid redundancies and open cooperation areas, where relevant.