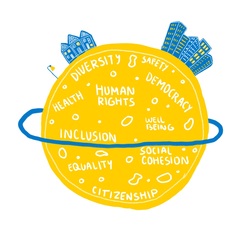 The youth development law (1993) outlines the parameters for the implementation of youth policy and includes key organisational, socio-economic, legal and political principles for the socialisation of young citizens of Ukraine.
The 2013 youth policy strategy, adopted by decree of the Ukrainian President, states that its main purpose is to put in place an enabling environment for the 'intellectual, moral and physical' development of youth, for ensuring its participation in the development and implementation of youth policy from national through local levels, and to increase the labour market competitiveness of Ukrainian young people. The priorities of the strategy are: affordable education, healthy lifestyles, employment, housing, participation and access to European programmes.
The Ukrainian Youth Forum established in 1995 is a member of the European Youth Forum. According to its Facebook page, it exists as a platform for representing the interests of Ukrainian youth through youth and children's organisations to national authorities and internationally.
According to the 2013 Council of Europe Review of youth policy, the UYF included 16 all-Ukraine children's and youth organisations and is active in healthy lifestyles, technology, innovation, business development, ecology and democratic development of the state.
 
To read the full article, click HERE