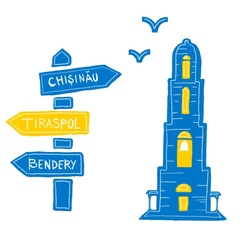 Tourism in the Republic of Moldova focuses on the country's natural landscapes and its history. Wine tours are offered to tourists across the country. Vineyards/cellars include Cricova, Purcari, Ciumai, Romanești, Cojușna, Mileștii Mici. In 2015, Moldova received 2.85 million visitors
CIS citizens do not need a visa to visit Moldova: Azerbaijan, Kyrgyzstan, Tajikistan, Armenia, Uzbekistan, Belarus, Ukraine, Georgia, Russia, Turkmenistan.
Since January 2007, Moldova has established a visa-free regime for the US, Canada, Japan, Switzerland, Israel.
From 2012 Moldova allows Turkish citizens to visit the country without having to obtain a visa.[4] There is a visa-free regime between the Republic of Moldova and citizens of the European Union (27 states), including Austria, Poland, the Netherlands, Romania, Slovenia, Germany, Hungary and others whose citizens can enter the Republic of Moldova without a visa for up to 90 days within any 180-day period.
Read the full article HERE
Other practical websites: 
The Ministry of Foreing Affairs