In order to examine how different actors have been dealing with potential violent radicalisation of young people, the SALTO EuroMed, SALTO EECA and SALTO SEE Resource Centres, the National Agencies of Erasmus +: Youth in Action of Germany, the United Kingdom, France, Italy, the Netherlands, Norway and Poland, and European Union and Council of Europe Youth Partnership have come together to research and showcase positive ways and initiatives in which youth violent radicalisation can be addressed and prevented, and examine how we can strengthen the role of different actors, in an attempt to compile a long-term strategy about youth work against violent radicalisation.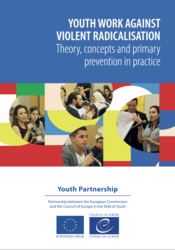 The 20 practices included in this research offer different perspectives on how diverse youth work approaches and methods can shape young peoples attitudes, perceptions and behaviours. These practices are grouped in five categories: peer education; online campaigns and digital media; co-operation with other stakeholders; providing opportunities and education and training. While all the practices presented here use more than one approach in the prevention of violent radicalisation, the grouping serves to showcase the interdisciplinary nature of the work, and a variety of approaches, activities and frameworks that youth workers use in their everyday activities.
Based on these practices, and on the outcomes from the conference "Youth Work against Violent Radicalisation" organised in Malta in November 2017, several findings, lessons, needs and challenges relevant for youth work have been identified. Some of the most important lessons and conclusions for prevention and multiplication are as follows:
Take a holistic approach to preventing violent radicalisation, linked to intercultural education, human rights, peace education, media literacy, citizenship education etc.
Peer-horizontal, trust-based and non-hierarchical relations allow for easier confrontation with sensitive and personal issues.
Building partnerships with other community actors is crucial in transferring the values of youth work to the entire community.
Empower young people and develop their competences, which will give them more opportunities and better future perspectives in their personal and professional lives.
Provide young people with alternatives and role models.
Deal explicitly with messages inciting violence and hate speech, by developing young peoples critical thinking and being open and honest with young people.
The next steps of the strategy will be a cross-sectorial seminar about Youth Work against Violent Radicalisation which will take place in November in the Western Balkans. More information about the seminar and the whole Youth Work Against Violent Cooperation project is available in the section About the Project "Youth Work against Violent Radicalisation".