SALTO ESC is a member of the Steering Group of the EPLM. We worked together with experts in the field to produce a practical guide on community impact of learning mobility. The Practical Guide aims to be hands-on, explaining some of the basics so that more and more people (especially practitioners) can feel confident in exploring the concept.
During our seminar "Community Impact in Practice" in October 2021 we recorded an introduction to the Practical Guide by one of its authors, Susie Nicodemi:
The report of the seminar is available here.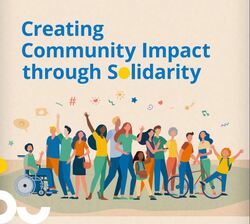 Would you like to get inspired by best practices on creating community impact through solidarity?
Find a reserach exploration By Adina Șerban, Clara Drammeh and Dan Moxon here
In the upcoming years we plan to host additional seminars on Community Impact for practitioners and continue our cooperation with partners in the EPLM, especially on Community Impact Indicators for Learning Mobility.