Youth Workers for Better Europe
Aims of the tool
-to introduce audience about European values and how young people see it
-to share experience the participants gained during the training course Youth Workers for Better Future
- to reflect the migrant crisis form the participants view
Description of the tool
The start of the brochure focuses on the context of the training describing its background, the
main aim and objectives, participants' profile, the programme, the methodology that was used and
learning outcomes. The concluding part of brochure gives a brief evaluation made by participants
in form of article.
Tool overview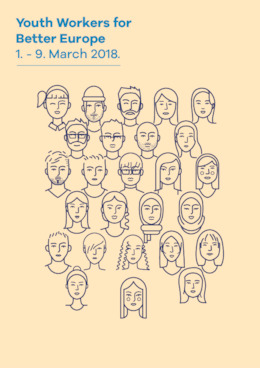 http://toolbox.salto-youth.net/2309
This tool is for
youth workers, young people, all interested in the topic European values, migrant crisis
and addresses
European Citizenship
It is recommended for use in:
Training and Networking
Behind the tool
The tool was created by
Unknown.
(If you can claim authorship of this tool, please contact !)
The tool was published to the Toolbox by
Mirjana Vasic (on 14 August 2018)
and last modified
17 June 2018