SECOND STOP FOR EFFECTIVE INCLUSION Handbook for Youth Workers dealing with newcomers
Aims of the tool
This Handbook is a practical set of materials, resources, tools and methods, created for Youth Workers dealing with Newcomers (International students, migrants, refugees, asylum-seekers, displaced people, etc.) and whose work aims to make the transition from a newcomer to an included member of society more coherent, who work to build inclusive and peaceful societies.

Description of the tool
This handbook is a product of the training course "Second Stop for Effective Inclusion" held 24.06 – 01.07.2018 in Yerevan, Armenia organised by WostAYN - World Armenian Youth Network International Youth NGO with the support of European Youth Foundation of Council of Europe and Ministry of Sport and Youth Affairs of Armenia.
Tool overview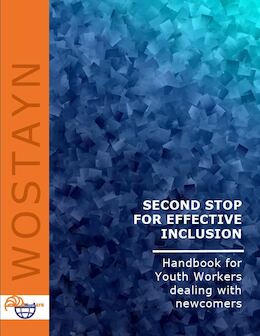 http://toolbox.salto-youth.net/2429
This tool is for
Youth Workers, Young people working with newcomers
and addresses
Social Inclusion
It is recommended for use in:
Training and Networking
Capacity Building
Behind the tool
The tool was created by
Diana Yeghiazaryan
in the context of
Second Stop for Effective Inclusion Training Course
The tool was published to the Toolbox by
Diana Yeghiazaryan (on 5 February 2019)
and last modified
25 December 2018