Learning courses for youth workers and volunteers to fully exploit all the potentials of digital education
Aims of the tool
As a result of engaging with the materials in these modules, youth workers/volunteers are intended to achieve the following learning outcomes:
-Understanding the basics phases of Project Management and methods and tools which can be applied in a youth project.
-What is a domain, Html, Css, Wordpress and why these tools are useful in youth work.
-Understanding and usage of digital marketing and social media platforms for youth organisations.
-How to design a digital marketing strategy for youth organisations.

Description of the tool
These e-learning courses will empower youth workers and volunteers to fully exploit all the potentials of digital education and digital skills and give the possibility to NGOs to count on volunteers/young ICT experts. The courses are free to study and available to everyone willing to learn something new. You can also find these modules with videos and other quizzes on the e-learning platform of this project:
http://projuven.org/eskills/
Our main objective is to reinforce ICT digital knowledge/literacy in order to reinforce social inclusion give and uniform the basis of work of ICT-active organisations, sharing best practices, understanding better the relation with volunteers, and better preparing youth workers and volunteers engaged in this field to improve the expected impacts, according to the European objectives. Therefore, this transnational project is aim to develop a common European framework inside the project in order to boost digital skills for volunteering and promote the exchange of knowledge and best practices among countries, the interculturalism, the encouragement of a European sense of belonging and the respect for the principles of the EU Treaties.
Consortium partners:
-Asociación PROJUVEN (Spain) – Coordinator
-Futuro Digitale (Italy) – Partner
-GEYC (Romania) – Partner
-Mobility Friends (Portugal) - Partner

Tool overview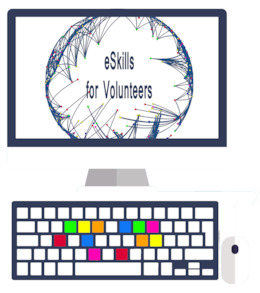 http://toolbox.salto-youth.net/2244
This tool is for
Youth workers, youth leaders, volunteers, youth project managers.
and addresses
Project Management, Organisational Management, Youth Participation
It is recommended for use in:
Transnational Youth Initiatives
Strategic Partnerships
Behind the tool
The tool was created by
KA2 CONSORTIUM eSkills for Volunteers
in the context of
The modules for youth workers/volunteers were created in the framework of the project KA2 Strategic Partnership in the field of Youth "eSkills for Volunteers" (2016-2-ES02-KA205-007980)
The tool was published to the Toolbox by
Francesco Ruberto (on 11 June 2018)
and last modified
15 February 2018